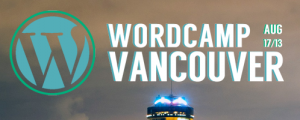 I'm really looking forward to my first WordPress WordCamp on August 17th. I've heard a lot about these and how you can share ideas and learn from many experienced users. Tickets are only $20 up until July 17th after which they're $25 – still a bargin.
Speakers at the camp are due to be announced very soon and I'll be keen to see who will be there. Anyone wanting more details can go directly to the WordCamp Vancouver site or follow them on twitter @wordcampyvr.
Should be a cracking event – see you guys there!